Multi-Function 360 Degree Microfiber Baseboard Cleaner
---
Cleaning baseboards has never been easier with the Extendable Baseboard Duster. It removes the hard work from cleaning ...
n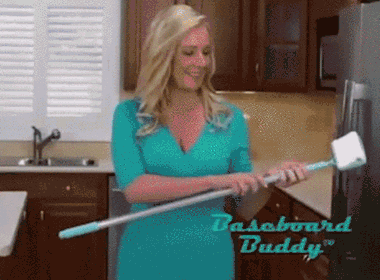 Hate Cleaning The Base board? Baseboard microfibre  is the newest and most efficient way to avoid the backbreaking, tedious work of cleaning baseboards on hands and knees. The extender rod allows for the easy gripping and the ability to stand the duster upright. Baseboard Buddy's brilliant Flex Head design allows you to dust with 360 degree angle Swivel Action without any strenuous exercise and movements in awkward positions that can result in back pain and sore limbs. Ideal for the home or office, this unique microfiber duster is suitable for dusting other hard surfaces in addition to baseboards such as chair rails and crown molding. Clean your baseboards the fast and easy way with Baseboard Buddy!

Hate cleaning the baseboards? Try to find something to help you clean these places in record time with minimum effort? Our Baseboard Mop For Cleaning Your Baseboards and Moldings is a way for you to finally make peace with you baseboards.
Features:
Function: Remove the hard work from cleaning baseboards. Help you clean the baseboards without getting down on your knees or scrubbing the dirt and grime. 
Adjustable: The handle is adjustable which can reach down or reach up high. Can be adjusted from 11.8 inches to 51.2 inches.
Storage & Portable: Baseboard Buddy is collapsible and breaks down which is portable and easy to store.
Flexible: The 360-degree swivel action head enables you to clean baseboards, door moldings and other surface from any angle.
Easy TO Clean & Durable: The microfiber cleaning pads are easy to clean and can be used many times.
Two Ways To Use: You can choose to use it in dry or wet way according to your need.
How To Use:
Extend the handle to your desired length.
Place the microfiber pad against the baseboard or door molding.
Walk as the pad glides and lifts the dirt away.
Package Includes:
1 X  Baseboard Mop For Cleaning Your Baseboards and Moldings
Material: Aluminum&Plastic&Microfiber